Liquid Filling Machines and Product Viscosity
Views:298 Author:utechmachine Publish Time: 2019-11-11 Origin:Site
A walk down the aisle of a supermarket shows the overwhelming amount of beverage products to choose from these days. Even with the wide variety of flavors and concepts within each category of beverage, consumers seem to want even more. To keep up, many facilities are designing and installing additional liquid filling lines.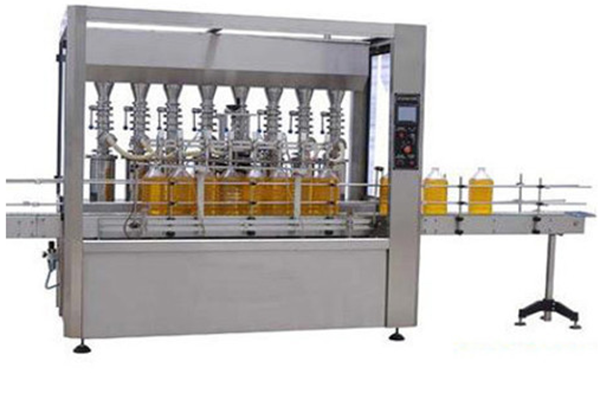 In addition, to maximize production efficiency, many are turning to high-capacity, automated equipment that provides this flexibility. However, the main thing in mind is precision, minimization of waste products, reduction of change times and simplification of sanitation. Fluid filling equipment suppliers are working to meet all these needs and more.
When choosing a specific filling machine, a good place to start is to know the exact characteristics of the liquid product. Is it a fluid that flows freely? This could work best with a timed flow filling machine where the same product volume is delivered each cycle. What happens if the product is more viscous? For this, a positive displacement fluid fill could be the way to go.
The series of edible oil bottling line is special for edible oil rinsing filling, capping and equipped with rotary transmission, PLC and frequency adjuster in speed. It is innovated and designed in the requirement of edible oil techniques, on the bases of introducing, digesting and absorbing advanced technology abroad. It is reasonable in structure, safe to operate and easy to maintain, which is an ideal choice for edible oil producers.
The next thing is to look at the various features of the oil filling machine. This will surely be of help if you're planning to get them for your business. We would take a look at a typical oil filling machine and their components.
Let's get started!
Plastic bottle oil filling line
1. Compact structured, handsome, easy to operate and highly automated.
2. The parts in contact with the material are all made of food-grade stainless steel, with no blind spots and easy to clean.
3. The filling volume is controlled with film valves to ensure accurate filling.
4. HBM high-speed, high-precision fill valves (± 0.1%) ensure high-speed liquid loss.
5. The liquid cushion element specially designed inside the filling valves can eliminate the affection of cutting and wallop between the liquid and the container, easy to eliminate the air bubble in material.
6. Capping heads are magnetic constant torque fitted to ensure the quality of coverage without any damage.
7. Highly effective lid classification and feeding system are protective for feeding and absence of lid.
8. Equipped with overload system to protect the machine and operators.
9. Equipped with the detecter of the absence of the cap and the jam-up detective of the bottle that could stop the monoblock in that case.
10. Equipped with output calculation function for monobloc.
11. Main electronic components (touch screen, PLC and frequency converter) are MITSUBISHI
12. The components of the pneumatic system are FESTO products.
13. Operated touch screen.