How We Choose a Reasonable Bottle Filling Machine Design?
Views:207 Author:Site Editor Publish Time: 2018-09-18 Origin:Site
Whenever someone wants to order/buy a bottle filling machine from a beverage filling equipment supplier, there are lots of logical processes and cumbersome steps to choosing an exact machine that will do your job perfectly and over the long term. There are certain questions and factors that one must consider when choosing a bottle filling machine. In this article, we would be putting you through on how to choose a reasonable bottle filling machine.
What product will you be filling?
The first thing to always consider when choosing a reasonable bottle machine is what it will be filled with. While some bottle fillers are made to fill containers with liquids such as beers and other beverages, others were designed to handle dry goods like powders and pills. One of the most important factors to consider is your product's consistency or viscosity.
Does your product have a high level of viscosity? If so, you will want to consider purchasing a filling machine that will handle that item's physical properties. Alright, let us break it down, a liquid filler machine would pump product with a low viscosity (e.g. juice) into a bottle, now it would be a different task if that same filler is to pump a high viscous liquid like molasses into the same bottle, you notice they are different. So, you have to measure accurately the viscosity of your products.
Will your product be carbonated?
Another thing to consider is if your product will be carbonated? Carbonated drinks need a very unique type of filling technique coupled with a well-specialized filling equipment. So, it's important to consider choosing a filling machine designed to perfectly fill your carbonated beverages. These types of Machines are called counter pressure fillers.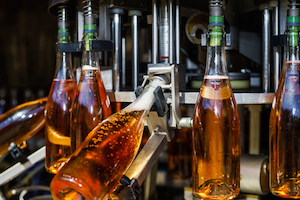 What type of container will you be filling?
The third thing to consider is the type of container that will be filling. This is a key factor in purchasing a filling machine is knowing the type of containers that you will be filling. This will help dictate what type of filling technique the machine will use.
What is your production rate like?
Also, the last thing you want to consider is the efficiency of a filling machine, it is very important to keep our current production viz-a-viz the future production needs in mind.
Which is the best? Manual, Semi-Automatic, and Automatic Filler system.
The final thing to consider is the determining which type of filler is best suited for your individual production needs is very important.
While the manual filling machine is a great option for home brewers (those small-scale companies), the semi-automatic filling machines are a great option for start-up or small company planning to increase their operation or the automatic machine which are generally more expensive to purchase and mountain but are great for big companies with greater production. So, you should know the one that really suits you from the three.
These are some of the things that you should consider when choosing a reasonable bottle filling machine.